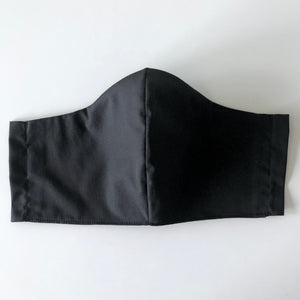 DAHER
BLACK COTTON/POLY MASK
Sale price Price $22.00 Regular price
BUY ONE - FUND ONE
This mask is reusable and machine-washable.
Made of two layers of breathable cotton/poly blend with a moldable nose, side slits for filters to be inserted and elastic straps that wrap around the back of the head and neck. These masks alone can filter up to 60% of particles as small as 0.3 microns when properly worn and frequently laundered (wash after each use!) You can also insert your own N-95 mask into the side pocket to increase filtration effectiveness and longevity of your N-95 mask. This is a good option for the general public wanting to protect themselves and others from spreading and contracting disease-causing germs.

The price of this mask covers the cost of producing 2 masks plus shipping. If you purchase more than one mask you will automatically receive 20% off at checkout so you only pay the shipping cost once. To purchase larger quantities, please email us!

All proceeds go directly back into our Make A Mask Project so we can continue to produce masks and supply those in need.
DISCLAIMER:
WASH BEFORE USE! Do not put mask directly onto face before first disinfecting. Make sure you have watched this video and learned how to properly put on and take off your mask. Wash after every use.

These are NOT N95 rated masks and are NOT guaranteed to block or protect against COVID-19 or other virus particles. These masks should not be used (1) in any surgical setting or where significant exposure to liquid, bodily or other hazardous fluids may be expected; (2) in a clinical setting where the infection risk level through inhalation exposure is high; or (3) in the presence of a high intensity heat source or flammable gas. Please check CDC guidelines for the most up to date safety information.

Due to current USPS restrictions we are unable to ship internationally.